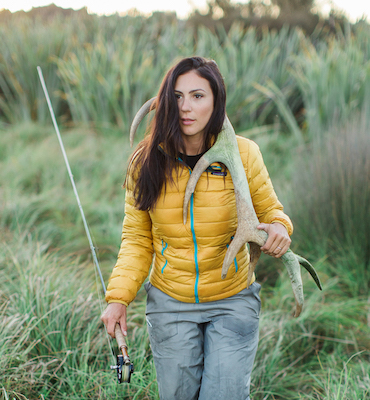 April Vokey began fishing as a toddler. By the sixth grade she was saving her allowance for weekend visits to the local tackle shop where she eventually stocked her hand-me-down Plano box with every lure and bait she could afford. Counting down days for the opportunity to attain her driver's license, by the age of 16 she spent every summer, fall and winter seeking escape through the salmon and steelhead migration that frequented B.C.'s coastal waters—baitcaster in hand.
After discovering a passion for fly fishing in her late teens, April soon dedicated her entire life to the pursuit. She began her guiding career through an outfitter on the Fraser and Harrison rivers, but left after several seasons in 2007 to start her own guiding operation, Fly Gal Ventures, at age 24.
April is a FFF certified casting instructor, fly-tying instructor and passionate public speaker who has established herself as a respected authority in the sport, and has traveled the globe in pursuit of gamefish on a fly rod. Her writing has appeared in numerous leading industry publications and in July 2012, April became the first fly angler to be featured in Outside magazine for their "XX-Factor" segment. Also a popular TV personality, she's been featured on the Outdoor Channel's "Buccaneers and Bones" series, "60 Minutes Sports," "The Steve Harvey Show," Discovery Channel's "Refined," Discovery/OLN's "Close Up Kings," WFN's "Fly Nation TV", and "Shorelines with April Vokey", which she wrote and hosted.
In 2013, April chose to pursue her passion for saltwater species (and a blue-eyed Aussie bloke), and therefore surrendered her Canadian winters for Australian & New Zealand summers. With her beloved dog Colby and two-year-old daughter at her side, she splits her year between her small cabin in northern B.C., Canada and her family home in Eastern Australia.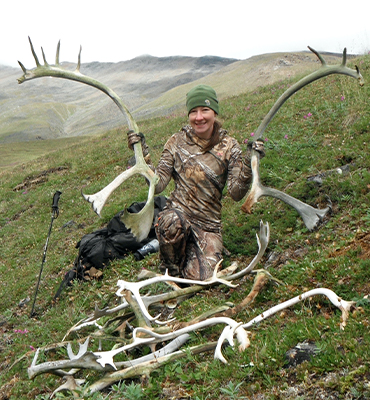 From the backwoods to the boardroom, Jackie Holbrook has been writing about hunting and fishing for more than 15 years. She spent six years as a TV news reporter in Montana and Alaska, covering the controversial complexities of fish and wildlife management. As a passionate hunter and fly-fisherman, Jackie used her time as a journalist to shine a light on the issues most important to outdoorsmen and women. Jackie sat in U.S. District Court listening to the battle over Montana's first wolf hunting season. She was the only reporter to fly to a remote Alaska village after a teacher was killed by a pack of wolves. Jackie filed reports from a commercial fishing boat during Sitka's sac roe herring fishery. And she traveled throughout Southeast Alaska talking to halibut charter owners about controversial catch limits that threatened to put them out of business.
Today, as a freelance writer, Jackie uses her voice to provide hunters with the information they need to improve their skills and encourage new hunters to go afield. She uses her knowledge earned through 20 years of hunting to interview the most prominent names in the hunting industry to provide helpful tips and tactics. And while she rarely writes about her hunting adventures, with just a little bit of prodding you might get to enjoy her wordy tales of being charged by bears, attacked by killer bees and the time her Pomeranian-poodle called in a moose while in her backpack. Jackie splits her time living along the Missouri River in Montana and Kenai River in Alaska with her husband and daughter.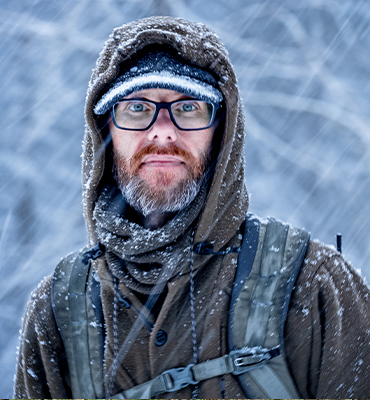 Tom, also known as "T3," has been a lifelong student and practitioner of primitive living skills, wilderness survival, and nature connection. Born in New Jersey in 1978, he grew up learning the skills our ancestors used to live close to the Earth from his father, Tom Brown Jr, founder of the Tracker Wilderness Survival School. Growing up at the Tracker School showed him the profound effect reconnecting people to nature could have not only on the individual but on the planet as a whole. After spending a few years wandering across America, he has spent the last 20 years passing on the skills he learned as a child. Currently, Tom lives in Oregon and works with Trackers Earth as an adult educator and land steward. He is also the Foraging/Homesteading Coordinator and contributor for Anchored Outdoors.
Photography has always been part of Tom's life. He has a great appreciation for the small yet beautiful things that most people pass by. When not teaching, taking photos, or writing, Tom is an avid fly-fisherman, traditional archer. Most important of all, he always asks, "What happened here? What is this teaching me?"