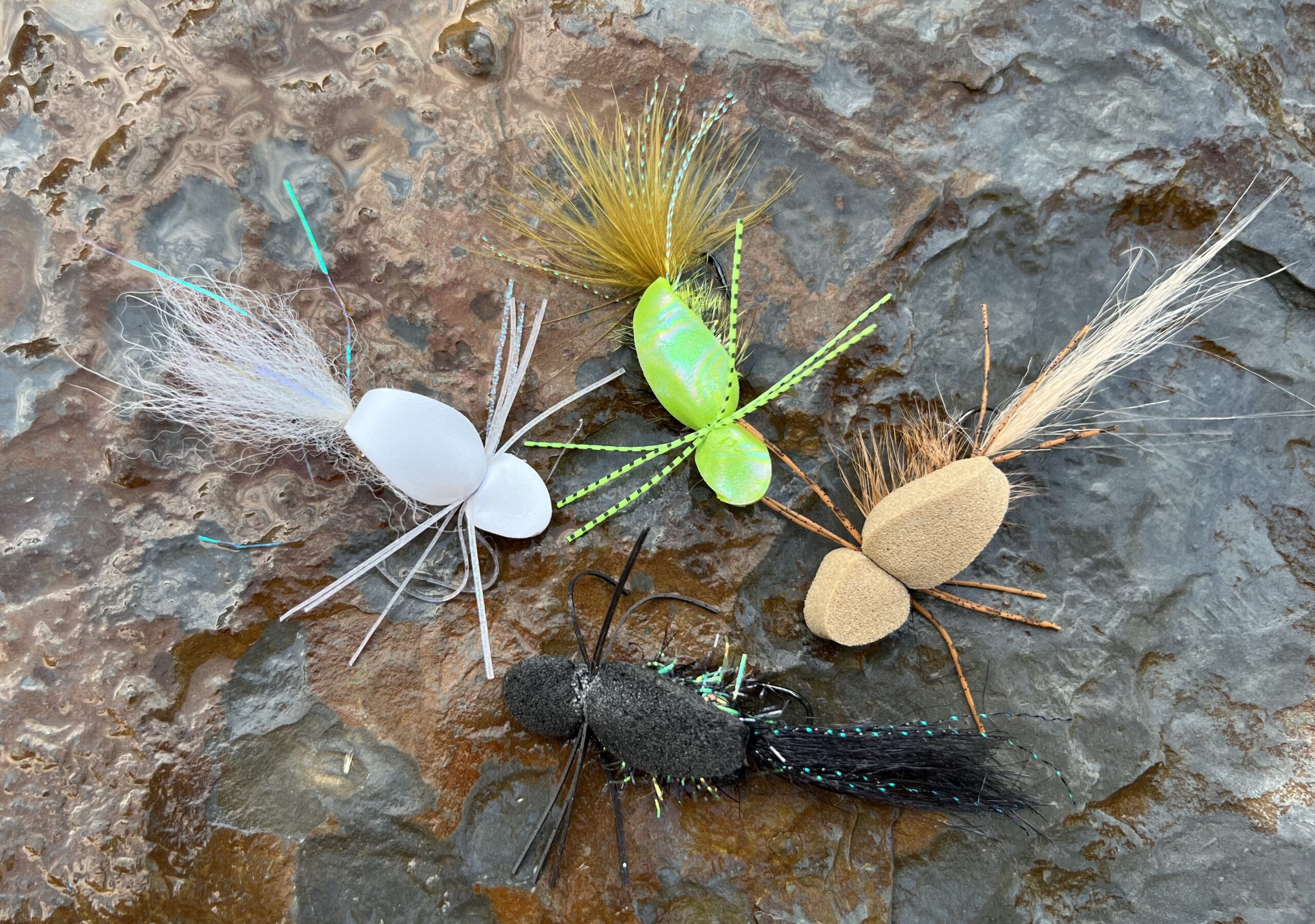 Member's Tying Night: Guest Instructor Jerry Darkes
We organise monthly tying nights with some of the best fly tiers in the business. Open to all Anchored Outdoors members.
September Guest Instructor: Jerry Darkes
Fly Being Tied: Gurgler Variation
This is a modification of the original Gartside Gurgler that was designed by Jack Gartside in the early 1990's for saltwater striper fishing.  It has since proven to be an effective surface pattern for a host of saltwater and freshwater species.  It is suggestive of a wide range of prey including shrimp, injured baitfish, frogs, mice, and even large mayflies in smaller hook sizes. The version shown here is used to target night-feeding brown trout and bass in the waters of the upper Midwest and started the after-dark "Mousing" craze 20 plus years ago.  This color is applicable for low-light and night feeding fish of all kinds most anywhere.   It is usually waked across the current in moving water, but can also be dead-drifted.  On still waters a stop-n-go retrieve is often used.  The noise and movement attract fish who can then see the silhouette of the fly on the water.
In addition to black, a full range of colors are effective including white and chartreuse for baitfish, brown and olive for mice and frogs, and even blue as a damsel fly color.
You Will Need:
Thread:

 

UTC 70D, Veevus 8/0 or similar
Hook:  Daiichi 2461 #1-#8, or a similar 3xl-4xl standard wire hook (I'll use a #2 for the demo)
Tail:  Marabou plume tip or Ex. Select Craft Fur, mix in a bit of Crystal Flash or a couple rubber legs
Back:  1mm-2mm closed cell foam (black again).  For the #2-#1 hooks cut approx. ½" wide, narrower as the hook size gets smaller.  River Road Creations has a set of cutters for a range of hook sizes that simplify the process.  You can also use their STP Frog cutter for the larger hook sizes.
Body:  Estaz, a palmered saddle hackle can be added if desired.  I'll show examples with and without the saddle.
Front Legs:   Sili Legs to match color scheme of the fly
Here are the shops that will be able to ship to you:
USA – Schultz Outfitters:
Greg Senyo at [email protected]
USA – Royal Treatment Fly Shop:
Joel at +1 503-850-4397 or [email protected]
Canada – Michael and Young Fly Shop:
Catherine or Tim at +1 604-639-2278 or [email protected]
Australia – Troutlore
Rob at 0418 304 414 or [email protected]