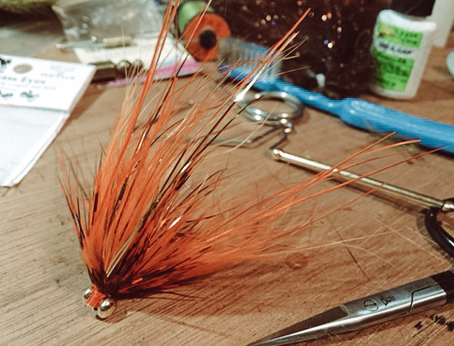 Member's Tying Night: Guest Instructor Tom Larimer
We organise monthly tying nights with some of the best fly tiers in the business. Open to all Anchored Outdoors members. Not a member? Sign up to become a member here!
December Guest Instructor: Tom Larimer
Fly Being Tied: Larimer Reverse Marabou
In this class, we'll be tying a summer and winter version of Tom's fly.
You Will Need:
Additional Required Tools:
Tube fly needle or vise
Weight:
Pro Sportfisher Pro Cone (Large) – Pink
Optional weight:
Pro Sportfisher Micro Tube
Pro Sportfisher Pro Cone size Large – Color of choice
Tube:
Pro Sportfisher Micro Tube – Clear
Tag:
Ice Dub – Chartreuse
Ice Dub – Blue
Body:
Rabbit strip – Purple
Marabou – Purple (preferably Fish Hunter)
Rabbit strip – Black
Rhea – Black (can substitute Ostrich)
Marabou – Black (preferably Fish Hunter)
Flash:
Holographic flashabou – Purple
Flashabou – Electric blue (6908)
Collar:
Guinea – Purple
Guinea – Blue
Wing:
Finn raccoon or long, soft artic fox
Hook Guide:
Pro Sportfisher Hook Guide – Black
Thread:
Any
Here are the shops that are up to date and ready to ship to you:
USA – Royal Treatment Fly Shop:
Joal at +1 503-850-4397 [email protected]
Canada – Michael and Young Fly Shop:
Catherine or Tim at +1 604-639-2278 or [email protected]
Australia – Troutlore
Rob at 0418 304 414 or [email protected]