About Anchored Outdoors:
Anchored Outdoors is an ever-growing network of fishing, foraging, hunting and homesteading experts who've been interviewed and brought together by podcaster and fellow outdoorswoman, April Vokey. The brand evolved from the Anchored podcast, which produced its first episode in December 2014. The entire Anchored platform is built upon a solid foundation of education and inspiration, with a strong focus on conservation and history preservation. Its mission is to encourage conversation, share knowledge, inspire activism and restore storytelling in a world that needs likeminded, forward-thinking outdoorsmen and women more than ever.
Anchored Outdoors serves as a one-stop shop for outdoor enthusiasts who are looking to learn more about recreating and living in the outdoors. Here you'll find articles written exclusively for Anchored Outdoors, as well as video tutorials, behind-the-scenes snippets and more. There's a members-only section, which is regularly updated with advanced lessons, documentaries, unheard episodes and free or discounted product. The site's approach is unique, as we believe it takes more than a name or short biography to fully learn from one another. Here on Anchored, we strive to share the entire backstory so that users—both new and old—can be confident that they're heeding advice from experts they've come to know and trust. 
We Love a Good Story. Here's Ours:
The idea struck on the banks of the Dean River, in 2014 at the end of a long guiding season. Earlier that year, April had wrapped up the first few episodes of her television series, "Shorelines with April Vokey". As she scribbled the show's narration in her notebook, she had no choice but to cut her long-form interviews into two minute sound bites.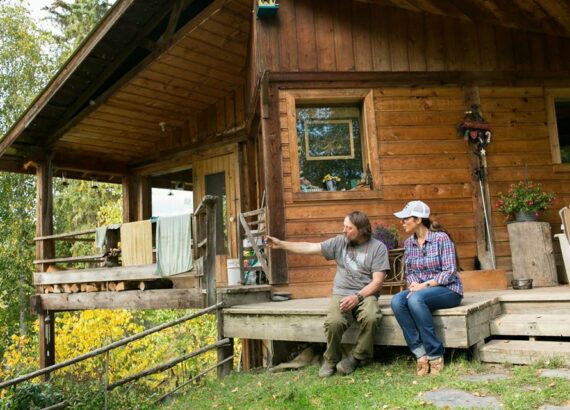 Story after story landed on the cutting room floor, threatening to never see the light of day. The problem was that some of her guests were in their 90s—they were unlikely to tell their story again in such depth. Plus almost all of them lacked access to social media, an internet connection or the ears of the younger generation.
So as she sat on a log staring downstream, she thought of all the history this river had seen before her. It had been made famous by legendary steelheader and airplane crash survivor, Lani Waller, whom she was scheduled to interview in just two months' time. It pained her to think of all of stories and life-lessons Lani was likely to share—lessons likely to sit and collect dust on a hard drive. 
It was at that moment when she had the idea to turn his interview into a podcast. Unsure of what to call her new project, she walked back and forth between guests, helping them land their fish and improve their casting. She brainstormed show names while instructing on auto-repeat, "slow down your cast, you keep popping your anchor…" And just like that, the Anchored podcast was born.
Within no time, April was wrapping up the television series and focusing solely on audio storytelling. She made it her mission to travel to sit with each of her guests, never underestimating the importance of eye contact and facial expressions. Her motive was to document the sport's history, all while bringing the angling community together to learn more about some of the sport's most influential people—not just about the fish they caught, but about the people themselves.
Over the years, as April's passion for the outdoors stretched out into foraging, hunting and homesteading, April has brought the Anchored podcast along on the journey with her. The Anchored brand and platform has since become a gathering place for guests and listeners to share their stories, knowledge and experiences.