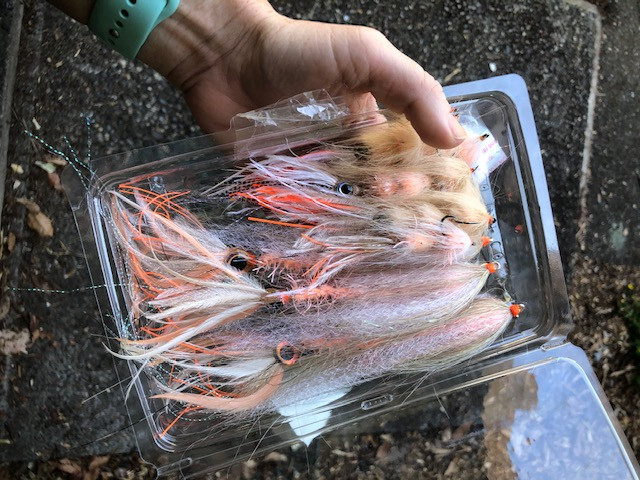 Member's Tying Night: Guest Instructor Brita Fordice
We organise monthly tying nights with some of the best fly tiers in the business. Open to all Anchored Outdoors members. Not a member? Sign up to become a member here!
November Guest Instructor: Brita Fordice
Fly Being Tied: Brita Fordice Squid
You Will Need:
Hook:
Gamakatsu SL12S (size is variable… Brita will be using a 2/0)
Thread:
Any
Tail (which is really the "head" of the squid):
White bucktail
Cream or white rooster saddle feathers (strung saddle is fine)
Rubber legs in favorite peach or pink or orange (Brita will be using loco legs sand)
Krystal flash or similar in pearl or UV Pearl
Body:
Micro Polar chenille shrimp pink or pearl
7 inches of Senyo's thin Intruder Wire
UV:
UV light with good batteries (Brita uses Loon Infinity) and any brand of UV rated as "THIN" *This is only needed if you choose not to use glue on the soft heads or if you choose not to use the soft heads altogether.
Head:
Craft Fur Cream or White 
Eyes mount for eyes:
Stonfo soft head appropriate for size 2-2/0 hook (or you can use uv on eyes without soft head).
Eyes:
Any 3D eye in size 6mm-8mm based on the size of the soft head/hook you are using.  
Here are the shops that are up to date and ready to ship to you:
USA – Royal Treatment Fly Shop:
Joal at +1 503-850-4397 [email protected]
Canada – Michael and Young Fly Shop:
Catherine or Tim at +1 604-639-2278 or [email protected]
Australia – Troutlore
Rob at 0418 304 414 or [email protected]